Regular price
Sale price
$18.00 USD
Unit price
per
Sale
Sold out
Milled and carefully processed from pure organic cassava, Agbe cassava flour is a great choice for bakers and pastry makers. It is also a perfect flour option for consumers who react to gluten, nuts, and other allergens. As a fibre-rich flour, it is low in calories, fat and sugar, making it ideal for cassava flour recipes. This premium product is quite different from other starches and cassava flour as it allows users to bake grain-free and enjoy its excellent taste. Although it's great for dense recipes, cassava flour also makes light and fluffy pastries and helps increase the shelf-life of baked items.
Nutritional info

Serving size 1/2 cup (125ml) cooked. Amount per serving: calories 150, total fat 0.5g, cholesterol 0mg, sodium 5mg, total carbohydrate 25g(dietary fiber 4g), protein 12g, vitamin D 2mcg, calcium 260mg, iron 8mg, potassium 240mg.
Ingredients

Pure ingredient. 100% Premium Fresh Cassava. Always read the label before use.
View full details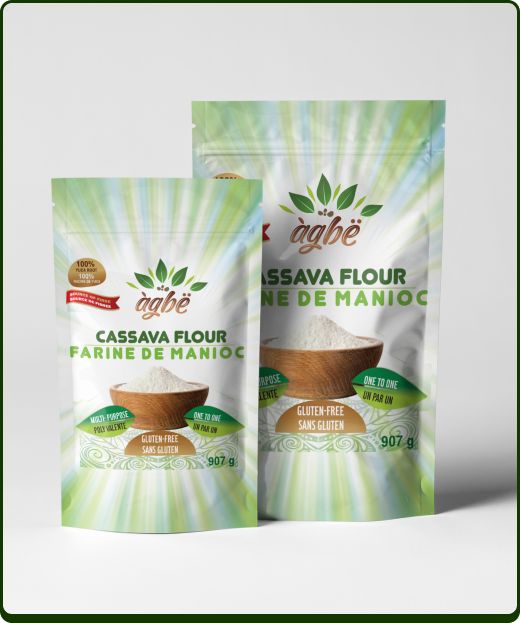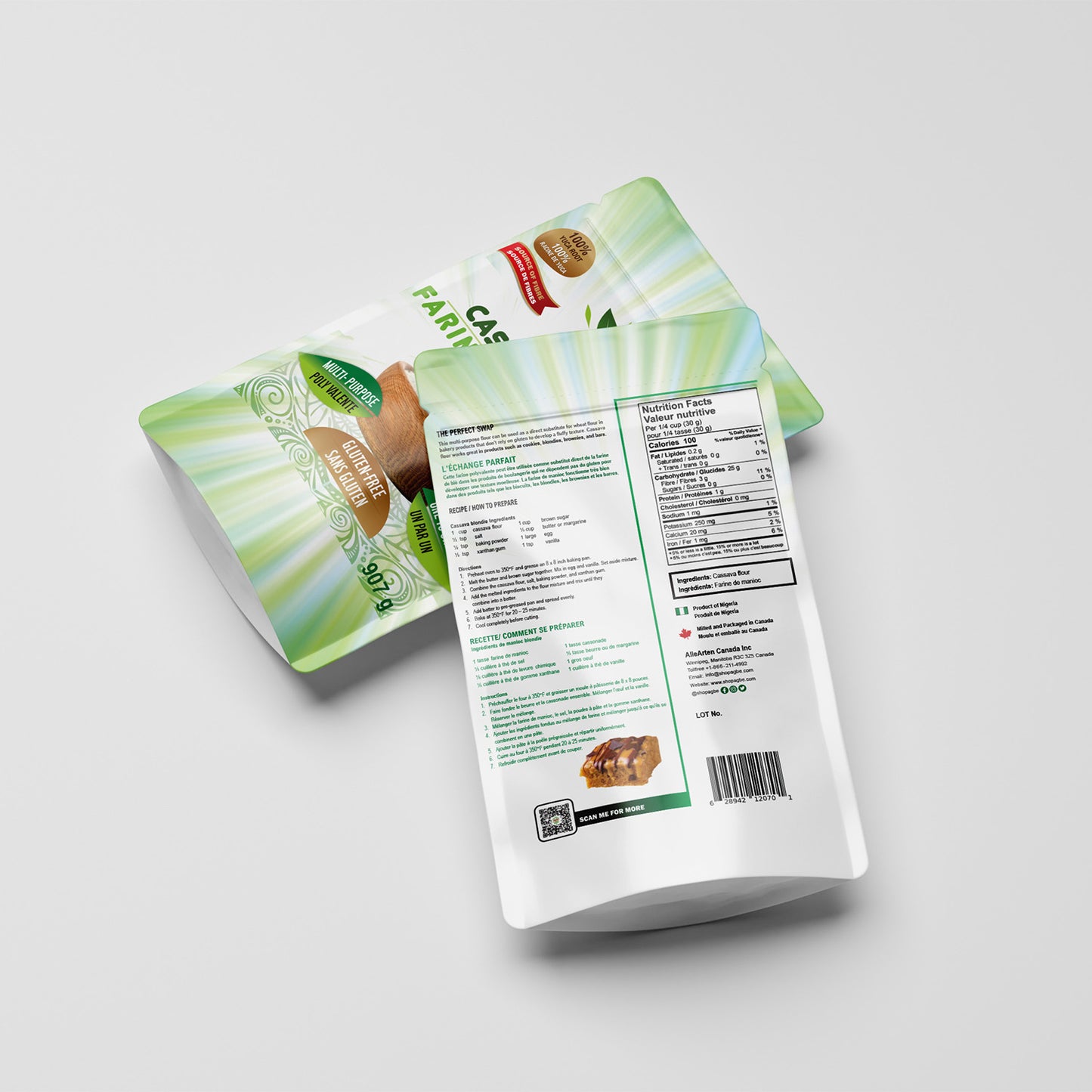 Benefits of Agbe Cassava Flour
Multipurpose Use
As an economical baking option, a little quantity goes a long way in making sweet-tasting pastries. It is totally different from wheat and tapioca flour as it enables bakers to make lighter and fluffier recipes. Made from specially selected whole cassava, this flour can be used for pancakes, crepes, bread, cake, brownies, cookies, chicken coating, chicken nuggets, calamari coating, fish coating, pie crusts and more.
Allergen Free
Agbe cassava flour is gluten-free, wheat-free, nut-free, and grain-free, making it the ideal option for bakers making pastry for allergy sensitivities. It also adheres to autoimmune disorder guidelines and supports gut health and blood sugar management.
Ethically and sustainably sourced
Our cassava flour is ethically produced and professionally processed to ensure it maintains its 100% purity, and texture, allowing bakers to make delicious meals and sweet cassava flour treats.
Nutrient-rich
Agbe cassava flour is 100% plant-based and rich in dietary fibre and carbohydrates, making it a friendly food ingredient to vegans and those who must go grain-free. Its mild flavour also makes it great for baking and thickening sauces and gravies.
Recipes to get you fired up
Gluten-free cassava flour is more versatile than you may think. Professional chefs and bakers know it makes great dough and thickener for food recipes. Cassava, also known as yuca, is...

Gluten-free cassava flour is more versatile than you may think. Professional chefs and bakers know it makes great dough and thickener for food recipes. Cassava, also known as yuca, is...

Read More

What is cassava flour? Cassava flour is a fibre-rich flour made from cassava roots and has the same white colour and texture as other types of flour. Cassava is gluten-free,...

What is cassava flour? Cassava flour is a fibre-rich flour made from cassava roots and has the same white colour and texture as other types of flour. Cassava is gluten-free,...

Read More